Gita Jagannathan
| Managing Director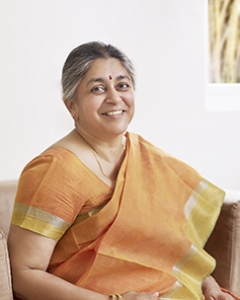 Mrs. Gita Jagannathan is the Founder of APL Global School, Chennai. She is a voracious reader and connoisseur of fine art, music, and humorous tales. She has a penchant for exploration and thirst to constantly evolve; attributes that reflect her growing-up years when she had to make sense of the cumulative experiences of travelling through 8 different schools, her father having been in a transferable job. APL Global School is the outcome of her search for an inclusive and nurturing space. Gifted with a thirst for the whys and hows of a person's evolution she spent years reaching out, tutoring and mentoring students who were struggling to fit in despite being intelligent, talented and hardworking. This drove her to learn more about giftedness, learning disabilities and special education. She used the Cambridge International Diploma for Teachers and Trainers, a course with Harvard Wide on Differentiated Strategies and a PG certificate in Special and Inclusive Education, from the University of roehampton to deepen her understanding of pedagogy and learning. Gita is a Reiki Grand Master, a hypnotherapist and a student of Yoga. This spiritual sensibility in combination with her skills in psychology and counselling alchemically contributed to the birth of APL Global School as a space to experience personalized learning for students, faculty members and all stake holders.
Kiran Merchant
| Principal
"It is very important to bear in mind that education not only impacts an individual child, but also society, the nation, and the world. Therefore, it is very important to give our children the right foundation and learning atmosphere. A child's earliest experiences impact his ability to think, establish relationships and future development, both socially and intellectually. A school is, therefore, a place where future citizens are nurtured."
It is this belief and her earnest desire to make a difference to teaching and learning processes that propelled Kiran towards the teaching profession.
A firm believer of child centric learning, Kiran has always believed that just as clay can be moulded beautifully once we know its texture and adaptability, we can work wonders with children once we know their strengths and weaknesses. Armed with a positive frame of mind, she is a firm advocate of "nothing is impossible". Exposure to different cultures from childhood has helped Kiran deal with diversity, both of teachers and students, with ease and instil a strong sense of mutual respect and discipline in the school family.
Kiran holds a post graduate in Economics with a B.Ed from the prestigious Central Institute of Education, Delhi University. She has also received a French Language Certificate – Intermediate level from Alliance Francaise de Madras. She has a rich experience of teaching subjects ranging from Environmental Management, Economics, Business Studies at IGCSE an A level to Global Studies, French and Hindi across Primary and Middle School. She has participated in a certification course on Leadership program for Educators conducted by IIM Bangalore.
Kiran joined APL as the Head of Examinations and faculty in the Commerce and Humanities department for A Level. She brings to APL Global School the benefit of her experience in all the aspects of schooling, especially the Cambridge processes. With her experience of teaching in Cambridge Schools, she has effectively guided the teachers with the Cambridge Curriculum and its multi dimensional requirements. She has streamlined the school's assessment processes, both for internal as well as the Cambridge examinations. She has completed the face-to-face and online – Stage 2 for Business Studies & Economics. Continuing with her learning, she has successfully completed a course in teacher training from Cambridge University and is an accredited Program Leader for the Cambridge International Diploma for Teachers and Trainers. To augment her knowledge in constructive assessment she underwent the Professional Development course in 'Assessment for Learning' conducted by Cambridge University.
Constantly inspiring and guiding, she motivates the students and teachers, alike to push their limits and explore new frontiers. She has played a prominent role in the daily operation of the school, its development and its success. Her interest in Personalized Child Centric Learning cements her relationship with APL.
Besides education, her other passions include traveling and learning new languages.
Ms. Gomathi Prabhakar
| Head – Senior School
Gomathi Prabhakar, a firm believer in "Inclusion, feels that the purpose of education is to ensure that each and every child acquires knowledge and skills in a way the child wants. It is the responsibility of a teacher to develop the individual strengths of the child; create a culture of respect, belonging and acceptance of individual differences. She envisages a vision of creating a learning environment that would empower children to attain their goals.
Gomathi has done her masters in History from the Delhi University and has experience in teaching in Delhi and Chennai. She has also completed the Cambridge International Diploma for Teachers and Trainers. Before joining APL, she had a brief stint in entrepreneurship. With the mission of whole brain development and life skills of the child, she has been actively involved in the curricular and co-curricular aspects of the school. At APL, she has been teaching History and Environmental Management at the IGCSE level. She strongly believes in team work & collaboration.
She has been part of the APL family since its inception in 2008 and has worked in various capacities as faculty, subject co-ordinator , co-ordinator for Model United Nations (MUN), the head of Expressions that covers the school Annual day and interschool cultural fest – SYNERGY . She facilitated the school MUN club to attend the first overseas conference, the prestigious Harvard MUN.
As Head of Senior School, Gomathi will draw from all these experiences.
Email: gomathi@apl.edu.in
Sarija Santhosh
| Head – Junior School
"What I learn, I explore; that I experience. That I learn and learn for life. This is the driving force behind my role as an educator. Facilitating my students' journey along with their teachers' through wonderment, exploration, inspiration and learning is my goal. I aim to instill confidence in students and make them believe they too can be inventors, discoverers, scientists, a good Earth citizen- A fantastic human being. My day is made when I see the glee and the gleam on my students face when they have had a learning which was splendid, awe-inspiring."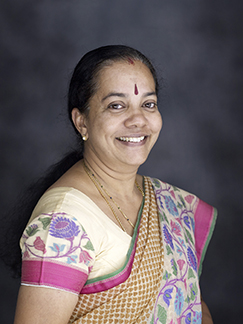 Sarija Santhosh holds a Bio-Medical Engineering (Hons) degree from the Bombay University. She has had a successful career in a string of reputed corporate houses including Hewlett Packard Network Ltd, Interkadio Pvt. Ltd and Systems Bio-medical Pvt. Ltd in which she has held and successfully performed challenging sales and service responsibilities. She moved into the educational field to share her knowledge, combined with her passion for being with children. At APL, she teaches Biology for children in senior grades.
Sarija has successfully completed her Cambridge International Diploma for Teachers and Trainers with a distinction in module 1 and A-level (Biology) online training with Cambridge University.
In addition to being a faculty in the Department of Biology, she was also the Biology co-coordinator, where she mentored teachers in making lesson plans and assessments to help them give wings to student's imagination and experience science with all their senses. In the role of an Examination officer, Sarija brought in her years of managerial experience and skill and took the entire team of teachers to conduct the examinations seamlessly and flawlessly. Her last stint as Head of Middle and Senior school, her vision to develop a rigorous learning environment, mentoring and leading a team of teachers for the holistic development of the students; saw its fruition at various levels. She now moves on to being Head of Junior School.
Sarija has multifaceted talents and interests that range from being a nature lover to Indian classical dance & music. She also likes reading technical updates on medical advances and has a keen interest in various art forms and mediums.
Email : sarija@apl.edu.in
Sangeetha Rajamani
| Head Elementary School
"Children are natural learners who absorb everything around them. So, early experiences play a vital role in lifelong outcomes. My objective is to make the environment of the elementary school a safe place where children are nurtured and inspired to experiment, explore, ask questions, share, build friendships, have fun and take pride in their work."
Sangeetha Rajamani M.Sc., B.Ed., P.G.D.S.Ed., MBA in Education Management, is an enthusiastic and dedicated teacher with a passion for education and an unwavering commitment to optimizing student and school success. She offers a proven track record of commended performance in working with students in special, mainstream and inclusive schools; both in India and the USA. A qualified Special Educator and Math teacher, she has more than 16 years of experience in teaching students with and without special needs, from kindergarten to senior secondary level.
A strong believer in continuous learning, she makes use of various professional development opportunities and keeps herself up to date with the latest trends in the field of education. She is skilled and certified in various technology tools that support student learning, collaboration, and communication that extends beyond classroom walls. She has earned the Cambridge International Diploma for Teachers and Trainers (CIDTT). She is accredited by the Cambridge International to internally moderate the coursework for Child Development. She has also completed an online training on 'Differentiating Instruction' offered by Harvard University.
Sangeetha believes in creating a conducive environment that facilitates students' learning. She utilizes her abilities to fulfil the socio-emotional needs of the children as well, thus ensuring their holistic development.
At APL, Sangeetha has been a Special Educator, Student Counsellor and taught Mathematics, Additional Mathematics, Statistics, Further Statistics, Child Development & Psychology.
As the subject-coordinator for Senior School Mathematics, she facilitated the effective implementation of the Cambridge International curriculum.
Sangeetha's experience in the reception years at Vidyasagar, her panoramic view of student development across the school years and her understanding of the psychological development of an individual combined with her qualification in Education Management has prepared her well to head the elementary school. Spearheading the elementary department, Sangeetha is committed to enhance the learning skills in children thereby creating an empowered tomorrow.