Sujitha Manikanten
Degrees and Institution: B.Com (Hons.), Berhampur University, MBA in Retail Management, Anna University
She started her career as a teacher and later moved on to work for multinational companies for about 6 years. Her passion for teaching brought her back to her dream profession and has been teaching for the past 6 years. She has completed her coursework in Differentiating Instruction through Wide World, Harvard. Her favourite pastimes are reading books, dancing and music.
At APL she teaches English for the Primary school. Currently, she is the subject Coordinator for Middle School English.
Esther Raj

Degrees and Institution: Esther holds a B.Com degree from Manonmaniam Sundaranar University and has Master of Divinity from Center for Global Leadership Development, Bangalore.
She has been actively involved in teaching and mentoring children ages between 3-16 for more than 10 years with Non-profit organizations and has also worked as an Assistant Editor at Word of Christ. She has been keen on experimenting various career choices and this has led her to play the role of travel assistant and translator (English to Tamil and vice versa) for foreign delegates. Esther enjoys reading, dancing, storytelling, writing and passionate in giving motivational speech for teens and young adults.
At APL she teaches English and Global Studies for Junior School.
Sangeetha B

Degrees and Institution: Sangeetha is a passionate and committed educator who fervently believes in creating an inclusive community of students and educators who can jointly discover the joy of learning. She holds M.A in English Literature from JNU, New Delhi. A Gold Medalist from Stella Maris College, Chennai, she returned to her alma mater to pursue her M.Phil in English Literature.
Sangeetha has varied experience in the field of publishing and teaching. She has worked as a faculty member in Datamatics and handled GRE, SAT and TOEFL classes. Her stint with Oxford University Press as an Editor helped her hone her writing skills and gave her insight into content development for school textbooks. Her role as a junior lecturer in Stella Maris College enabled her to realise that the teaching profession is her true calling.
At APL she is now a faculty member of the English Department and considers it an honour to be part of this esteemed group of passionate mentors.
Yogeshwari
Degrees and Institution: M.A in English Literature from Stella Maris College, Chennai
Yogeshwari has an experience of 4 years in the corporate sector working with renowned organizations, where she was also involved in the Learning & Development Department. On a quest to uplift herself holistically, she loves to experiment with writing styles and is an ardent movie-goer.
At APL she teaches English for middle and high school and French for
middle school.
Fiza Abubacker
Degrees: M.A in English Literature
After a highly successful and fruitful career in the corporate world, she switched over to teaching because of her passion for working with children. Her expertise as a trainer has added great value to her teaching career.
At APL, Fiza is the English Coordinator for senior school and teaches English for grades 10, 11 and 12. She also facilitates the literary club and plays a major part in compeering the school events and coordinates the play production for the Cultural Evening. Fiza firmly believes that learning can best be achieved through a lot of fun and that is evident in her ability to enthuse the children.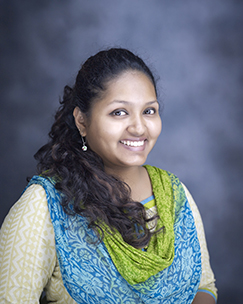 Karen Savarirayan
Degrees: M.A, M.Phil in English
Karen likes teaching kids. She likes storytelling and is an ardent theatre fan. She is a dramatist herself and has worked in a few colleges and outside groups. She is a Bharatnatyam dancer and has been part of various Choirs. Her favorite pastime is reading.
At APL, she teaches English in Primary school.